On sofas overlooking the lights of the city, salon-tanned kids stretched out before a blue-lit cocktail bar—not to be confused with the espresso bar (offering tiramisu) in another corner or the regular popcorn counter serving up Pepperidge Farm cookies and tubs of Häagen-Dazs. It took me a while to realize that these glamorous teenagers weren't here to see Public Enemies or Ghosts of Girlfriends Past; they'd come to the cinema lobby just to make the scene.
I'd heard for years that Istanbul, one of the official European Capitals of Culture for 2010, calls itself "Europe's coolest city." It's certainly one of the most complex—the center of a country that is 98 percent Islamic yet increasingly famous for its watermelon martinis. Here is a place whose Blue Mosque has an LCD screen flashing the time in Paris and Tokyo. Turkey's most cosmopolitan metropolis has more billionaires than any city but Moscow, New York, and London, and when I went to the Istinye Park Mall there, it was to see Aston Martin DB9s and Bentleys jammed outside a gilded avenue of fortresses labeled "Armani," "Gucci," "Vuitton," "Dior." To my friends in business in New York, and to many proud Istanbulians, this city is where the Islamic world meets the global order, serving as a bridge—literal and metaphorical—between Europe and the outer edges of Asia.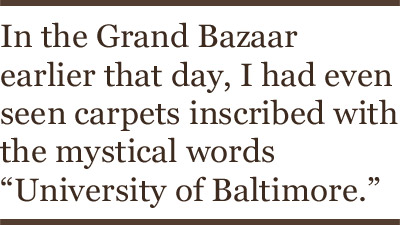 But still nothing had prepared me for the flash and glitter of it all. After I'd taken in Matthew McConaughey mumbling sweet nothings at the Citylife Cinema, I went across the street to the Sofa Hotel, and, setting foot in its elevator, found myself inside a kind of psychedelic light show, new colors coming through the transparent wall at every stop. When I started walking back toward the center of the city, I saw a woman in head-to-toe chador entering Starbucks to buy an espresso-flavored version of the jellied candy known as Turkish delight. In the Grand Bazaar earlier that day, I had even seen carpets inscribed with the mystical words "University of Baltimore."
We foreigners like to recall that Istanbul is the only city on Earth with one shore in Asia and one in Europe. But its real heart, according to its eloquent native son, Orhan Pamuk, in his evocative memoir, Istanbul: Memories and the City, lies rather in the division between the old (which is usually the local and the Islamic) and the new (generally the Western and the secular). The relation between the two is still tense: I had to walk through a security machine just to go to the movies. And Pamuk himself, though Turkey's most famous modern citizen, was brought to trial, in 2005, simply for mentioning his country's brutal treatment of Armenians in 1915 (the next year, perhaps in response, he was awarded the Nobel Prize in Literature).
But the fascination of Istanbul today is that it seems as compressed and vital a model of the larger globe as you could find; one morning, when I awoke just before dawn, I could hear the call to Islamic prayer from every minaret, even as I could faintly make out the sound of the latest hip-hop music pounding along the streets. When I went to sleep after nightfall, it was to the accompaniment of the same unlikely duet, the competing sounds now coming together, now seeming to clash.
I've always been something of a global creature: I was born in England to parents from India, and I grew up in California, though I live now in Japan—and so, for much of my life, I've been seeking out global places that are trying to piece together, as I am, disparate cultures and identities, to make a stained glass whole. Istanbul is most attractive to many for its complex, layered past—its harems and mosques and cemeteries and bazaars; but for me it's intriguing as an image of the future. It was no surprise, I thought, that President Obama visited the city within three months of taking office (a picture of the President, head respectfully bowed, greeted me as I walked into the basilica-turned-mosque-turned museum, Hagia Sophia).