I was staying in India earlier this year, and every time I returned to my room in a semi-luxury hotel, one of the chambermen along the corridor smiled at me sweetly and said, "Sir, sir, I can clean your room?" He had cleaned it only about an hour before, usually, and there was only so much constant visits could do, but still I was touched and intrigued by his presence: he looked like any of the millions of such men a visitor meets across South Asia, shy, seemingly from a small town, orthodox in his beliefs, I guessed, yet translated by his English and his ready smile into this foreigners' hotel. Each time he circled around me, I couldn't quite tell how much he was after a tip and how much his generosity and eagerness to please were genuine.
One day, when I returned from breakfast, it was to find that he had taken a bath-towel and fashioned it into the shape of the elephant-god Ganesh, and then scattered rose-petals over the trunk and paws. I congratulated him on this unexpected feat of bathroom-supply origami, and he said, engagingly, "Yes, sir, elephant!" And always the hovering continued–"Sir, you are needing something?" Just before I left, I gave in and slipped him a generous tip–and when I came back from breakfast my last morning, he had not only whisked away my new shoes and given them a shine, but had also somehow got rid of the nail that had begun protruding from the sole (I had bought the top-of-the-line pair, new, in the same town just two days before).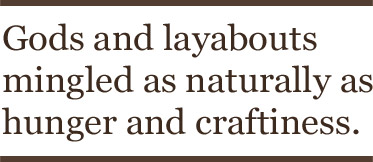 "See, sir?" he said, and I saw how in India gambits are wiped clean as suddenly as they are dreamed up. There were Vodafone signs all along the road outside the hotel, and one unprepossessing, dusty cafe now called itself "Burger King." There were almost thirty channels of mythical song-and-dance and news-and-punditry on the hotel-room TV–the essence of India 2.1–and yet to understand my new friend I could turn to few of the hot new novels in the hotel bookstore downstairs, but, rather, to someone who had completed most of his work half a century ago, before India had television, let alone cell-phones. In the same writer's pages, I had met my mother's old tailor, my uncles' neighbors, the South Indian priest who wrote to me once (after I wrote an essay in Time magazine on affirmative action), asking for "Playboy-style pictures of yourself." Long before the Booker Prize seemed to be an Indian colony, decades before call centers and yoga teachers and sandaled pilgrims were a familiar part of the West's story of itself, R.K. Narayan had been giving us a small town, Malgudi, where gods and everyday layabouts mingled as naturally as hunger and craftiness and where the daily dramas of hope and horror–reflected in my chamberman–might have been found on any global street.
Every day Narayan would collect the stories that came to him in his South Indian neighborhood, of exorcists and animal-tamers and tigers who happened to stroll into Market Road, and turn them into what ended up as roughly three dozen books, composed over sixty years. His stories seldom leave the fictional town of Malgudi–critics have drawn maps of its major sites–and hyenas, monkeys and elephants are as common in its streets and in their stories as delinquent students and small merchants with big dreams. Time is mostly suspended in this world–there are no clocks–and very little changes as one makes one's way from The Bachelor of Arts, say, to A Man-Eater for Malgudi to A Tiger for Malgudi. But precisely by drawing his boundaries so sharply–prisons are often benign sanctuaries in Narayan, havens of protection and routine–he went so deeply into his culture, and its evergreen characters, with their mixture of innocence and designs, that he catches something that never seems to change. Upon putting down almost any of his works, one realizes that each one is just a piece in a canvas that he spent his lifetime filling in–a human cosmology, it almost seems, a Ramayana for mortals. Against such a changeless panorama, any more topical fragment soon looks out-of-date.
Born in Madras in 1906, Rasipuram Krishnaswami Narayanaswami Iyer, as he was sonorously called, was shipped off before he was three to live with a grandmother and an uncle–and, as he later remembered it, a peacock and a monkey, who, he claimed, were his closest friends (he chattered to the money every day when he came back from school, he said–and the monkey chattered back). Like the friendly and feckless characters in so many of his stories, he failed his high-school English exams–not a good augury for the son of a schoolmaster–and later, having somehow completed his studies at the Maharaja of Mysore's College, gave up his inherited career of teaching after all of three days.
Having announced, to the consternation of all, that he was going to take up writing–licensed dreaming, in effect–he bought an exercise book on a day chosen by his grandmother for its auspiciousness and commenced. His first book, Swami and Friends, was rejected everywhere in London, however, and he instructed an Indian friend at Oxford to cast it into the Thames. Much as in an R.K. Narayan story, the friend gave it instead to Graham Greene, then in the early stages of his own novel-writing career, and the enchanted English novelist not only sold it to a publisher but decided to serve as Narayan's counselor, editor and unofficial agent for the next half-century.