"Since China wants to join the world community," the 14th Dalai Lama said as I was traveling across Japan with him for a week last November, "the world community has a real responsibility to bring China into the mainstream." The whole world stands to gain, he pointed out, from a peaceful and unified China—not least the 6 million Tibetans in China and Chinese-occupied Tibet. "But," he added, "genuine harmony must come from the heart. It cannot come from the barrel of a gun."
I thought of those measured and forgiving words—the Dalai Lama still prays for his "Chinese brothers and sisters" every morning and urges Tibetans to learn Chinese so they can talk with their new rulers, not fight with them—as reports trickled out of Tibet of freedom demonstrations that have led to some of the bloodiest confrontations in the region since similar protests preceded a brutal crackdown in the late 1980s. The violence has left 99 people dead, according to Tibetan exile groups; the Chinese government says 13 "innocents" were killed in the riots. Soon after monks began demonstrating in the Tibetan capital of Lhasa, Chinese forces moved to contain the marchers, but the disturbances spread to other Tibetan cities, and their causes clearly remain unresolved. Working out how best to avoid further embarrassment as they prepare for the start of the Olympic-torch relay on March 25 will be a tricky challenge for China's rulers. As a diplomat told TIME, "They need to get this under control, but to do so without a lot of brutality."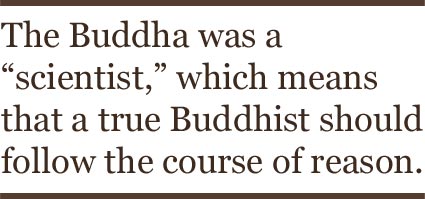 How the crisis unfolds will be determined not just in Beijing but also by the words and actions of a man who protects his people from afar, in his exile home in the northern-India hill station of Dharamsala. As a Buddhist monk, the Dalai Lama speaks unstintingly on behalf of all people's rights to basic freedoms of speech and thought—though as a Buddhist monk, he also holds staunchly to the view that violence can never solve a problem deep down. If the bloodshed gets out of control, he said in recent days, he will step down as political leader—a symbolic act, really, since he would continue to be the head of the Tibetans and the democracy he has set up in exile already has an elected Prime Minister. In China meanwhile, Tibetans are still liable to imprisonment for years just for carrying a picture of their exiled leader (who by Tibetan custom is regarded as the incarnation of a god, the god of compassion). Some have been shot while walking across the mountains to visit cousins or children in exile.
As soon as you start talking to the Dalai Lama, as I have been doing for 33 years, you notice that his favorite adjectives are logical and realistic and the verbs he returns to are investigate, analyze and explore. The Buddha was a "scientist," he said the last time I saw him, which means that a true Buddhist should follow the course of reason (recalling, perhaps, that anger most harms the person who feels it). Contact and communication are the methods he always stresses—to this day, he encourages every possibility for dialogue with China and in places even urges Tibetans to study Buddhism under Chinese leaders whom he knows to be capable.
This determination to be completely empirical—as if he were a doctor of the mind pledged to examine things only as they are, to come up with a clear diagnosis and then to suggest a practical response—is one of the things that have made the current Dalai Lama such a startling and tonic figure on the world stage. There are few monks in any tradition who speak so rarely about faith while rejecting anything that has been disproved by scientific inquiry; on his desk at home, he keeps a plastic model of the brain with detachable parts so that he can take it apart, put it together again and see how it works. And there are even fewer political leaders who work from the selfless positions and long-term vision of a monk (and doctor of philosophy). It's easy to forget that the Dalai Lama is by now the most seasoned ruler on the planet, having led his people for 68 years—longer than Queen Elizabeth II, King Bhumibol Adulyadej of Thailand or even Fidel Castro.
This all has deep and wide implications for a world that seems as religiously polarized now as it has ever been. Always stressing that the Buddha's own words should be thrown out if they are shown by scientific inquiry to be flawed, the Dalai Lama is the rare religious figure who tells people not to get needlessly confused or distracted by religion ("Even without a religion, we can become a good human being"). No believer in absolute truth—he eagerly seeks out Catholics, neuroscientists, even regular travelers to Tibet who can instruct him—he is also the rare Tibetan who will suggest that old Tibet may have contributed in part to its current predicament, the rare Buddhist to tell foreigners not to take up Buddhism but to study within their own traditions, where their roots are deepest.
As the world prepares for the Olympic Games in Beijing this August—and as Tibetans (and those in other occupied areas across China, like Xinjiang) inevitably use the world's attention to broadcast their suffering—a farmer's son born in a stone-and-mud house in a 20-home village in one of the world's least materially developed countries has, rather remarkably, become one of the leading spokesmen for a new global vision in which we look past divisions of nation, race and religion and try to address our shared problems at the source. Acts of terrorism, he said when I saw him in November, usually arise from some cause deep in the past and will not go away until the root problem is addressed. He could as easily have been talking about the demonstrations of discontent being staged in his homeland nearly a half-century since he saw it last.