Their ages when they died were 24 or 23 or 74 days; they are described in the barely legible letters on the headstones as "infant daughter"s and 17 year-old sons. The names beside them might make up an atlas of homesickness–Epsom and Abingdon and Surrey, as keenly remembered here as in the buildings all around (called Glendower and Ascot and St. Andrew's) that try to make home seem less far away with hot water bottles and Anglican bells, billiards tables and books called Kava for Johnny in their small libraries.
The words aspire, in the classic British way, to hold their heads high, but something else keeps slipping through. "Man appoints but God can disappoint." "We walk by faith, not by effort."
As you keep surveying the ages–6 months, 26, 24, 7 months–you see the real, unwritten story of the island. Diseases that had never been heard of in Britain; or "cirrhosis of the liver," as one longtime English resident in Colombo assured me. The dead might have been victims of foreignness itself.
I suppose, as the son of products of British India, born in Oxford with a complexion that speaks of Bombay, I've always been drawn to cemeteries and the shadow stories they tell, especially in places where the mingled unions of Empire are most visible on headstones. In once British Indian Aden, in Patagonia, certainly everywhere across South Asia, the elegies you find in country churchyards tell the story of Britain abroad with a human directness our textbooks shirk. But few graveyards I had visited were more redolent of all the spirits in the air than the British Garrison Cemetery, which sleeps on a small unmarked ridge just a few minutes walk from Queen's Hotel and St. Paul's church in the Buddhist capital of Kandy, in the hilly heart of Sri Lanka.
Just below you is the Temple of the Tooth, the single most striking and gorgeous image of what was long a separate kingdom here in the island's interior, and sits around a lake. Yet nowadays the Temple of the Tooth is reached through inspections more rigorous than in a U.S. airport, thanks to an attack on the country's most sacred Buddhist relic by Tamil Tiger guerrillas in 1998. Everywhere are signs of Sri Lanka's 24 year-old civil war, and when I was looking at what is said to be a relic of the philosopher of peace, the day before, suddenly I had been hustled out as alarms sounded and armed soldiers chattered away on walkie-talkies, blocking off the entire town with empty local buses.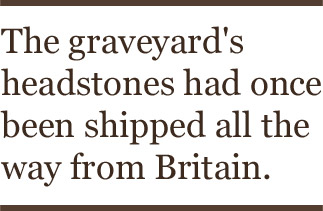 What the British brought to Sri Lanka, and took from there, acquired a whole new meaning in a country that, as soon as it gained independence, in 1948, reverted to age-old tribal divisions and started to tear itself apart. The graveyard's headstones, I would learn, had once been shipped all the way from Britain, on vessels that took back to Blighty tea and cocoa and rubber from the "island of gems."
I walked around the silent tablets one hot day in late June last year–the third highest man in the Sri Lankan army had been assassinated by a suicide bomber, the day before, not far from where I was eating breakfast–and looked at the headstones recalling some poor soul who "died suddenly of sunstroke at Rozel Estate, Ambegoda." As I leaned in closer to try to make out the full inscription, I saw a movement in the trees, and then a man, who had been lying in a tree-trunk, as if in a hammock, reading a Sinhala paper, came out of his perch and greeted me in his language.
I turned away–Kandy swarms with unwanted friends, as do most poor places where the occasional visitor is a lottery-ticket on two legs–but this man, clearly used to such brusqueness, said, "I work here. My name is Charles Carmichael."
I had taken him (of course) for yet another Sri Lankan drifter, but now I looked again–the beetroot-bright shirt, the crisp, sandy grey hair, neatly parted on the side, the grey trousers–and I saw that the Carmichael was no lie; it's common in Sri Lanka, as in parts of India, to meet Johns and Thomases and Abrahams, and especially to meet De Souzas, Fonsecas and Fernandezes, whose names recall the Portuguese settlers of the 16th century, but a dark-skinned Carmichael is rare. And the keeper of graves had taken me, too, perhaps for a mongrel product of Sri Lanka, who didn't know quite where he belonged.
Now, as he switched to fluent English, I saw the "Charles"  in his brisk syllables and intricate, easy diction–almost too intricate–the kind of English I had yet to meet anywhere across the island. "I come from an English-language household," he said, to deflect the question that he knew was on the way.
His grandfather, Charles told me–a good, upstanding Carmichael–had visited a Hindu priest on the island and been very taken with the holy man's daughter. She was only fifteen, but the English were used to getting what they wanted, and soon she was pregnant by the Englishman. Not much later he headed off to Calcutta, never to be seen again, but, vunusually, his grandson told me, he sent back money for his–well, his child's mother, and for the boy's education. Another Englishman came across the young, unattended mother and made her pregnant a few more times.
Charles Carmichael had a due irony towards the British, I noticed–it was he who stressed to me that the gravestones were all the British left in exchange for the tropical treasures and spices they took away from Sri Lanka. But he was keen to stress the good they had done, too, now and then. Things were shoddy in Sri Lanka, he took pains to tell me; the solid constancies of Britian were nowhere to be found.
"Most of these graves have been torn up," he went on, a little like a host apologizing to a guest who has surprised him in the middle of a shambles. "By looters. people looking for treasure. They thought there would be jewels here, family heirlooms. They didn't know the English don't take their treasures to their graves. So it is in a state of terrible neglect."
It was for that reason that he had been appointed by the church to come and clean up before Prince Charles was due to visit, in 1998. "And after the visit, they asked me to stay on, to keep it intact."
I looked around at the stunted grass, the undisturbed silence. The previous day there had been rumors of a guerrilla attack on the country's schools and people had raced into the classrooms with sticks and swords to bring their children out.
"Do many English people come here to find their roots ?"
'Oh yes. I've been working here for eight years. And there have been seven visitors."
"Seven in eight years ?"
"They're getting old. It's hard to climb the hill to get here.