The air, sultry, pulsing, hot even along the pitch-black streets, is redolent of Cuba. The two-storey gingerbread white houses, their leafy verandahs looking out on swampy gardens, hammocks swaying under Gothic extravagances, make you think you are in Haiti. On one car on sleepy Fleming Street, defiant outlaw legends painted all over it, one of the most prominent declares, "We Seceded where Others Failed." Your plane ticket tells you that you haven't left the United States, but your instincts suggest otherwise: you're in the Conch Republic now, the afterthought of an island off the tip of Florida's nose that seems closer to Fidel Castro's maverick island (only 90 miles away) than to George W. Bush's.
Nothing is quite straight in this off-shore home of renegades. You call for a taxi and a young nurse sidles up in a flamingo-pink sedan with an ad for a strip-club around its sides. Down near said "Fetish and Fantasy Role-Playing" shack, an old woman is offering a sanctuary for clawed creatures ("Chicken Are Safe Here"), and a psychic delivers futures next to a gay bar. In the local paper, the Key West Citizen, the headlines announce, "Syrup-Covered Woman arrested after head found," "300-pound man kept smashing his head" and–impossible to match–"Man named Noel arrested for urinating on church." The strangest fish of all may well be the large, doughy-faced Middle Americans from Orlando or Nebraska padding up and down the main drag and inspecting the human zoo from behind the safety of their smirks.
The idea of disorder in Key West, to invert the line from Wallace Stevens, is its very livelihood; the little settlement at the southeastern edge of the not-so-United States–the only Caribbean island in the nation–plays curious games with the very idea of law and order, or the norm. Originally a base for chasing pirates, it has set itself up as "The End of the Republic/The End of the Road: Tropical Vacationland," in the words of one large sign, the ideal place for fugitives, or those who just wish to steal away from America without acquiring a visa. There are more writers per capita along its leafy side streets than anywhere this side of Greenwich Village: Tennessee Williams wrote here, Robert Frost, Elizabeth Bishop, Ralph Ellison; these days you can see Annie Dillard sashaying off to a one-house writers' colony, Robert Stone, Ann Beattie. Along Margaret and Amelia and Carolina and Elizabeth, as the pretty lanes are called, rainbow flags announce "gay-friendly" inns, while tanned couples dine by candlelight on second-floor terraces, and residents place "Chat Lunatique" plaques outside their ferny bungalows. The idea is to do as little as possible–no industry, little heavy lifting–and make a life-style and even an art-form out of it, in the manner of sometime local (and cruising songwriter) Jimmy Buffett.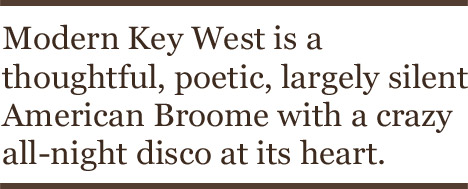 Yet even quirkiness is a commodity for the tourist industry, and so this raffish place for castaways, home to the first American international air flight (when Pan Am flew from here to Havana on October 28, 1927), is a magnet, increasingly, for regular people eager to inspect the outlandish, even to partake of it, before returning to the rat race. Modern Key West is therefore a thoughtful, poetic, largely silent American Broome with a crazy all-night disco at its heart.
Chesty college boys walk the length of Duval Street, drinking a ritual beer at every bar. Shops selling "Deep Sea Drinking" t-shirts alternate with embarrassedly chic boutiques that also sell signs saying, "Sorry, We're Open." Key West has become one of those places where real oddity meets its theme-parked shadow–All-You-Can-Eat Oddity–with the curious result that it is sunlit and shady all at once. Fast Buck Freddie's sits very close to the Banana Republic outlet and head shops peddling "National Pimp Association" stickers stand next to Starbucks.
You can almost see the war between the blue states and the red in the ever more polarised nation play out on both sides of central Duval Street. Step away from it and in two minutes you're in gracious streets where a laundromat doubles as a gas-station and trebles as an Indian restaurant, and hidden lanes lead to little cottages where the fans turn slowly, slowly. Elegant restaurants sit among the bungalows and muscular men in shorts, holding hands, disappear off into the dark. The pace is Bahamian, and the volume is a private whisper. Then you return to the main street and the obligatory carnival is at full-blast, as if Johnny Depp had moved, in less than a minute, from Fear and Loathing in Las Vegas to Pirates of the Caribbean. The house where Hemingway wrote A Farewell to Arms is home now to the Pelican Poop Shoppe.
For a small, small world–everyone seems to know everyone else's business–Key West has a disproportionately lavish history. A center of operations during the Spanish-American War, it was, for fifty years in the 19th century, the richest town per capita in the U.S. (in part because it had only 2000 heads), as well as the world's largest source of cigars, its 166 factories churning out 100 million smokes a year. By 1933, however, it was bankrupt, unable even to pay the salaries of city employees, and its status as a place outside the law, and all but outside the country, began to grow. Its aromatic cemetery has one section for Jewish people, another for Catholics, a whole area consecrated to those who died on the U.S.S. Maine in 1900, another for those who perished during the War of Cuban Independence. One Tom L. Sawyer is there, too, but he's listed as a "community leader."