Suddenly, rising above the clumps of tea bushes that smother the rolling hills of central Sri Lanka–slight female Tamil workers moving up and down the slopes with baskets on their backs–a great forested outcropping appears. You pass a long flight of steps along the main road, leading up to a Hindu temple. A sign for a Moslem burial ground. A Buddhist monk, in lustrous orange robes, standing outside an international phone-call shack with his umbrella. Then, not long after a sign alerts you to "Guinness World Record Dancer Hezam (Enjoy the Show)," you go through one final army checkpoint and arrive at the place where all these traditions converge.
A series of more than 3000 steps leads up and up, past stalls selling sweets and resting-houses for monks, past a statue of the Buddha reclining, next to the Hindu elephant god Ganesh. Far below, the surge and rush of the Mahaweli River, the island's main artery, keeps you company as you climb. During the pilgrimage season, in winter and spring, fairy lights lead thousands of the faithful up to the blustery summit of Adam's Peak (or Sri Pada, "the Resplendent Foot," as Sri Lankans call it), with its great depression, a little like an oversized footprint, next to which you can see a huge triangular shadow as the sun comes up.
On this midsummer day, however, barely a soul is to be seen on the sacred peak. One lonely cook tends the Japanese peace pagoda, its monk having left for the season. A forestry commission official is here to talk about "community development," but he seems much keener to talk about the year he once spent in Rhode Island. Wild elephants and leopards take over the mountain as soon as the pilgrims depart. And even on a balmy morning in June the peak itself, apex of devotion, is blanketed in clouds.
When Marco Polo wrote about "Zeilan," as he called it, he devoted half of his seven paragraphs to Adam's Peak, which even today local tourist books acclaim as a "symbol of unity." For Buddhists, after all, the 2243 meter mountain is sacred because the "footprint" at the top is said to have been left by the Buddha, on his third trip to the island that he wished (Singhalese Buddhists believe) to turn into a Buddhist stronghold. Christians sometimes ascribe the print to St. Thomas, Jesus's disciple. Hindus suggest that it belongs to their god Shiva, while Moslems often say that it is the mark of Adam, who wept as he took his leave of Paradise here. Not Eden itself, you note, but the place where you say goodbye to it.
Four major traditions intersect on the small space, therefore, yet each one sees in it something different. The first English writer on Ceylon, Robert Knox, described the footprint as two feet long; another English traveler measured it as 5 1/2 feet; Ibn Batuta, the great Islamic traveler two generations younger than Marco Polo, had it as "eleven finger spans" in length. And though the mountain is mentioned in the 2300 year-old Indian epic, The Ramayana, it is situated there in Lanka, island of demons.
The towering symbol of unity is, in other words, a symbol of divergence. And almost everything we think we know about it is wrong, or at least blanketed in clouds. The name "Adam's Peak" is sometimes ascribed to Sir John Mandeville, the British traveler who, scholars have found, never actually existed.  Marco Polo's account is so hazy that it's possible he never came here either. And the one who said that "The mountain is conspicuous from a distance of three days and it contains many rubies and other minerals, and spice trees of all sorts" was, as it happens, Sinbad the Sailor, in the Arabian Nights, who made two trips to the "island of gems."
In summer at least, you come to Adam's Peak not to see the sun rise, but to watch the clouds floating past, and then see the darkness descend.
My very first morning in Sri Lanka this summer, the Deputy Chief of Staff of the Sri Lankan army, Parami Kulatunga, was assassinated by a suicide bomber just a few miles from where I was having breakfast. Eleven days before, 64 passengers on a bus, many of them civilians, died when someone exploded a mine underneath their vehicle. Six local sightseers had recently been killed (apparently by separatist guerrillas) in a national park, and security forces were accused of shooting five boys in Trincomalee for no persuasive reason at all. My first weekend in Sri Lanka, a journalist was gunned down three miles from where I was watching the World Cup.
The whole central area of Colombo, known as Fort, might better be known as Fortified, or even Fortress. Soldiers check cars every few yards, and "High Security Zone" signs ring the major hotels. Along Galle Face Green, the idyllic seaside promenade where children ride ponies and lovers canoodle under parasols, men sell fake beards and families take picnics, there are nine kites in the air one quiet evening–and 21 armed soldiers in the space of a block. Helicopters swoop and circle overhead.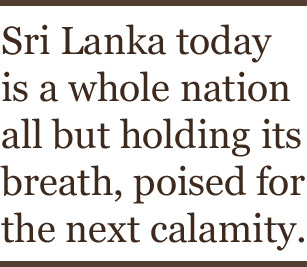 Sri Lanka today is a whole nation all but holding its breath, poised for the next calamity. And each tightening of security only brings, inevitably, a heightening of insecurity. The day after the killing of Kulatunga, apparently by the secessionist Liberation Tigers for Tamil Eelam (L.T.T.E.), or "Tamil Tigers," someone makes a phone call to say that a school will be the next target. Instantly parents across the island race to classrooms, sometimes bearing sticks and swords, to bring their children back to safety. A medical sales representative leaves a bag of supplies on the floor, and police rush in to "defuse" it. Explosives are found inside a child's slippers.
To read Marco Polo today on Sri Lanka is, therefore, an exercise in darkest ironies. "The people of this island are no soldiers," he wrote, "but on the contrary are abject and timid creatures. When they need soldiers they bring in Mahometans from other countries." Ever since a hard-line government declared that Sinhala would be the national language, in 1956, eight years after independence from Britain, and then leafy Ceylon was turned into the Socialist Republic of Sri Lanka, in 1972, the Hindu Tamils who constitute almost 20% of the population, mostly in the north and east, have felt excluded. In the 23 years since the Tigers began violently agitating for a homeland independent of the Singhalese lion (the Sri Lankan flag the rare banner that shows a lion brandishing a raised sword), more than 60,000 people have lost their lives in the war and 750,000 have been displaced. An official ceasefire was achieved in 2002, but as soon as the more nationalistic Mahinda Rajapakse became president last November, the Tigers stepped up their attacks again and more than 700 others have been killed this year in what is war in all but name.
For Polo, Zeilan was "for its size, better circumstanced than any island in the world." Yet Sri Lankan today could hardly be more ill-starred, its places of worship more full of armed fighters than of monks. Anuradhapura, home to a bo tree said to have come from the tree under which the Buddha found enlightenment–and the oldest historically documented tree on the planet–is home now to army encampments, prostitutes, war profiteers and Artillery Regiment parades. When I went to see the Temple of the Tooth in Kandy, home to Singhalese Buddhism's most sacred relic (the Buddha's tooth, it's said), alarms began sounding and I was hustled out into the street where anxious uniformed men with walkie-talkies were using local buses to block off the main road. And as Kandy prepares for its great annual festival this month, the Esala Perehara, more than 7000 extra soldiers have been called in to keep watch.
It's only right, perhaps, that Polo described the Buddha as having died on Adam's Peak, and Adam as being buried there.
It's a curious, haunting fact of Sri Lanka's history that the island has often been seen not just as paradise, but as paradise in the process of being lost. Situated along the ancient sea lanes that link the East to the West, the island known as Serendib, as Taprobane, as Ratnapida has long drawn foreigners to its palmy shores. Arab and Chinese traders came in search of the sapphires and rubies that Polo also described, and Alexander the Great is said to have sought out the "elixir of life" in a lake he hoped to find inside Adam's Peak. Portuguese, Dutch and British visitors have sailed away with ginger, wild indigo, seven kinds of cinnamon. Shaped like a jeweled pendant, the island has constantly been grabbed at, and the result has generally been bloody.
"From Seylan to Paradise is a distance of 40 Italian miles," a 14th century papal legate to the emperor of China wrote, "so that 'tis said the waters falling from its fountains are heard there." But that is a bittersweet position: to be within earshot of paradise but not inside it. Besides, if you travel only 21 miles north of Sri Lanka, across what's known as Adam's Bridge, you arrive on the complicating shores of its giant neighbor, India. In that sense, the latest violence to be disfiguring the island follows, sad to say, in a long tradition. The Buddha's tooth alone has been at different times the target of aggressive thoughts from the Mongols, the Chinese, the Portuguese and now Tamil guerrillas (whose bombing of the Temple of the Tooth in 1998 is still represented in photographs along the temple's walls). D.H. Lawrence, who spent a month in Kandy in 1922, was not the only one to feel, "There seems to be a flaw in the atmosphere, and one senses a darkness, and through the darkness the days before the Flood."
Snakes abound in the beautiful garden, as its affectionate native son Michael Ondaatje writes, and "Jesus lizards," nightjars, brain-fever birds make you feel as if you're in a chattering jungle. Even in 1967, when Jan Morris visited, the island was suffering through a murder rate "among the highest on earth." And long before the recent decades of headless corpses and death squads, there were Buddhist-Moslem riots in 1915, and thousands of insurgents killed in 1971. At times, it's true, Tamil rulers have been protectors of Buddhism, while Buddhists often respect the deities of the Hindu pantheon; but as with Polo's account, something sticks in the throat when one reads, in a tourist brochure, "Buddhism's doctrine of peace and tolerance has left its gentle mark on the land and her people. Different religions and ethnic groups live side by side in total harmony in a democratic society."
The Tigers, like guerrilla groups everywhere, have made up for their lack of numbers with surgical, spectacular strikes. They took out half of Sri Lankan Airways's fleet, and much of the government's air force with a raid on the international airport in July 2001. They were found bringing in sea mines this year, perhaps with intentions on Colombo's port. It is almost universally believed that they are behind the murder of a foreign minister last year, the near-killing of the commander of the Sri Lankan army this April, the murder of Indian Prime Minister Rajiv Gandhi when he tried to intervene in the war, in 1991. Pick up a paper today, and you see half-page ads announcing that the army, surreally, is selling 200,000 pairs of cotton socks, 100,000 camouflage t-shirts and 250 national flags. Another article announces that a local man has entered the Guinness Book of World Records by driving a car 100 km. in reverse.