From the air, as one descends, Saigon looks to be a vast and scattered web of white and yellow lights, coming up from shacks and tiny houses, notably impoverished, not flashy, the graceful curve of the Saigon River breaking up the grid and reminding you of the paucity of clustered lights and high-rises. But as soon as you move into the crowded streets, passing the immigration officials whose long, glossy hair falls down from Army caps, moving past the Saigon By Night club attached to a glittery new hotel, joining the massed energy of the 3 million motorcycles that seem to be permanently gunning through the city of 9 million, you can feel a pent-up electricity like nothing else in Asia.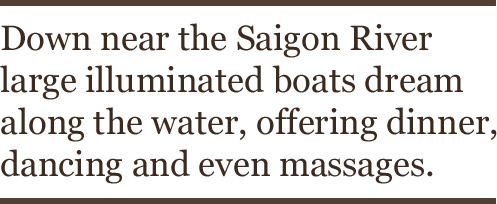 The little lanes are bustling long after 10 p.m., lit up with signs for Nokia and large screens projecting English Premier Division matches, and every hundred yards or so a sudden blaze of color marks a new cafe or Vegas-worthy beer garden. Down near the Saigon River large illuminated boats dream along the water, offering dinner, dancing and even massages for sybarites, while young women in cocktail dresses slink in and out of the N.Y-Saigon bar, hearty expats devour smoked salmon quesadillas at the Club Latin and lazy-eyed cyclo-drivers keep up a constant, whispered incitation of "Girl, bar, anything you want."
Saigon is a place for savoring the night, more than any other place I know, and though it is now officially known as "Ho Chi Minh City," the airline tags still identify it as "SGN"; it stands, after all, for the very anything-goes looseness and promiscuous internationalism that Ho Chi Minh abhorred. Hanoi to the north is a proud, musty city of poets and philosophers and official pronouncements under cool grey skies; Saigon is home to the wheel and the deal. Having not visited the tropical carnival for years, I'd decided to return to see how its Wild East atmosphere had changed as the West began to come flooding in. Besides, flying in from California, I knew that I'd be twelve hours out of sync, sure to be up all night. If there's one place where it pays to wake up at 7 p.m. and go to bed sometime after dawn, it's Saigon.
One's first view of the city of shadows, especially around the tourist stops on Dong Khoi Street (Rue Catinat in the days of Graham Greene and the French, Tu Do Street during the "American War," and now a patriotic thoroughfare whose name means "Simultaneous Uprising"), is of an almost generic slice of modern, mongrel Asia. Tiny dark girls in very short skirts pull large white businessmen into their darkened boites, while a Led Zeppelin cover rises up from the Underground bar and a legless man with a broad smile wheels himself up to you, hand extended. One night in Bangkok may be more profuse and varied than in Saigon, but Saigon stands, more even than does the Thai capital or Shanghai or Hong Kong, for the face of modern Asia: sleek Western surfaces driven by a uniquely Eastern sense of energy and determination. Hanoi is the good girl who lives with her parents, gets high marks in school and carries herself with a proud sense of rectitude; Saigon by comparison is the rebellious younger sister who runs away from home and decides to live off her wits and her charm, donning a skin-tight denim outfit in the dark.
Put more explicitly, Hanoi, for all its teeming shops and motorbikes, is home to official, public Vietnam, the site of the Ho Chi Minh Mausoleum and other places for school-tour pilgrims, reminding the people of their common origins and aims; Saigon is a riot of privacies, individual energies cut loose with nothing to join them other than the state commandments they're ignoring. The best way to feel the city, I remembered as I stepped out of my hotel, is on the back of a scooter, joining the democratic crush of vehicles that inscribe circles around the Notre Dame Cathedral, the park opposite where scores of couples amidst the trees sit or stand above their bikes like breathing replicas of Rodin's "The Kiss," the Municipal Theatre in front of which (this being National Day–September 2nd) and a chanteuse delivering sugary local melodies set to dance moves from the age of Cher. Whole families were riding along on single bikes, a dandy was drifting past in white suit and shoes, laborers were carrying huge panes of glass on their scooters and women were sporting masks to protect themselves from the fumy air. So intense is the flow that people strike up conversations with ao-daied strangers on the neighboring bike.
The rough edges of the city had been smoothed away a bit since my last visit, or buffed to an international sheen. On my first visit, in 1991, shopkeepers sold pieces of endangered species downtown and tourists flocked into Maxim's for its retro-kitschy floor show. Now there was a new Prada outlet across from the new Burberry emporium, and on the mezzanine level of the five-star Sheraton Saigon I found an elegant Palazzo Club (which turned out to be a casino). Red flyers for "Saigon Yoga" decorated the walls, a "Rain Forest" disco offered "Security-Hospitality-Attractive-Peacefulness and International Friendship" and as I walked down the night streets, perhaps in deference to that last great goal, many a woman on her Honda Dream (or man remaking himself as woman) darted in front of me and stared frankly into my eyes, peddling a piece of Saigon's distinctive cocktail-dress-and-oil-lamp chic.
Yet the zany resourcefulness I remembered from before seemed just as lively as it had been then. I passed a tiny, dark cafe that called itself, impenitently, the Hard Rock, undeterred by the fact that a real Hard Rock Cafe sat only a few blocks away, in a fancy hotel. One little restaurant had a sign up in front, "No Delicious No Pay." The Bimbo patisserie was almost within sight of the T and A silk shop. Where Hanoi sells a kind of faded romance, Saigon is not shy about dealing in straight sex.